Poll: Hyping Inflation Backfired on Republicans
House Min. Leader Kevin McCarthy (R-CA) addresses supporters Nov. 9, 2022, at an election watch party in Washington.
(Sarah Silbiger/Getty)
The Republican focus on inflation in last week's elections may have backfired, a new poll suggests.
The poll found that voters who were worried about inflation preferred Democratic policies for responding to it. Republicans made inflation a big issue in the campaign in the apparent belief voters would blame Pres. Joe Biden for it and punish Democrats at the polls.
Instead, Democrats held onto the Senate, picked up some key state and other races, and appear on track to limit Republicans to a bare majority at best in the House of Representatives.
In the poll, conducted just prior to Election Day, voters sided with Democratic policies over Republican ones when it came to responding to rising prices and making them more manageable for people.
Democratic strategist Jeff Weaver, who ran the 2016 presidential campaign of Sen. Bernie Sanders (I-VT), told TYT that Republicans may have paid a price for telling Americans inflation was a problem without offering a plausible solution.
Inflation, Weaver said, "ranked high in the polling and everyone thought that would hurt the Dems." And while it may have hurt Democrats to some extent at the polls, Weaver says GOP strategy on it fell flat: "[A]s limited as the Dem messaging was on the economy, the Republicans did not put forward a plan," Weaver said.
"People essentially said to the Republicans, 'Yes, there's inflation. But what the hell are you gonna do about it?' Answer: crickets," Weaver said.
Analilia Mejia, co-executive director of the Center for Popular Democracy Action, offered a similar diagnosis, adding that Republican extremism damaged the credibility of the party's messaging on a range of issues.
"Republicans peddled a vision based in fear of high crime and high inflation," Mejia told TYT. "Democrats reminded voters of the white Christian nationalist extremism of the GOP. Ultimately the Democratic message was more believable and Republican candidates were the proof. They told voters who they really were and this time voters believed them."
In the runup to the election, Republicans barraged voters with ads and speeches and interviews reminding them how costly basic goods were becoming.
Sen. Min. Leader Mitch McConnell (R-KY) issued multiple remarks and statements. House GOP Leader Kevin McCarthy (R-CA) as early as the summer of 2021 boosted a poll that found 71% of respondents were concerned that Democratic spending plans could worsen inflation.
More than a year later, however, Republicans still had offered no remedy that mainstream economists were lining up to endorse.
And in the new polling, conducted by Data for Progress from Nov. 4-7 and released in conjunction with the Progressive Change Institute, voters overwhelmingly backed Democratic policies related to fighting inflation or mitigating it. They also soundly rejected Republican proposals.
Nevertheless, in an election year with so many unforeseen outcomes, the boomerang of inflation was yet another that neither politicians nor pundits predicted.
Our Revolution Communications Coordinator Amanda Nichols offered an explanation to TYT for how both parties – and national media – failed to question the conventional wisdom that inflation as a campaign issue favored Republicans. "Many in the Washington bubble are inclined to underestimate the American people and the progressive economic agenda — and the two are more aligned than corporate interests would have folks believe," Nichols said.
And she echoed Weaver's point about lack of GOP policy, saying, "Republicans like to be very loud about things like inflation, but their silence on solutions is deafening and it's not lost on voters." Nichols added, "Worse, the GOP puts forth backward ideas of austerity that would outright harm working people - like dismantling Medicare and Social Security."
Adam Green, co-founder of the Progressive Change Institute, said in a statement, "By overwhelming numbers, voters who marched to the polls thinking about inflation were not voting to cut their own benefits or to take money out of their own pockets, as Republicans like Kevin McCarthy are proposing."
Nichols said that voters side with progressives when it comes to identifying inflationary forces, "from corporate greed and monopolies to fragile supply chains from decades of outsourcing."
According to Green, "The data shows that voters want Democrats to go even bolder on economic issues."
The Data for Progress polling found voters who were concerned about inflation supported not just progressive ideas, but at least one that's apparently unconstitutional: Forcing companies to reveal proprietary information about their pricing.
Seventy-three percent of likely voters who called inflation their top concern either strongly or somewhat supported action "Requir[ing] companies to explain changes in costs." The same percentage of all likely voters agreed, but with even more saying they "strongly" supported it.
The poll asked likely voters about more traditional measures, both to prevent inflation and to buffer its impact.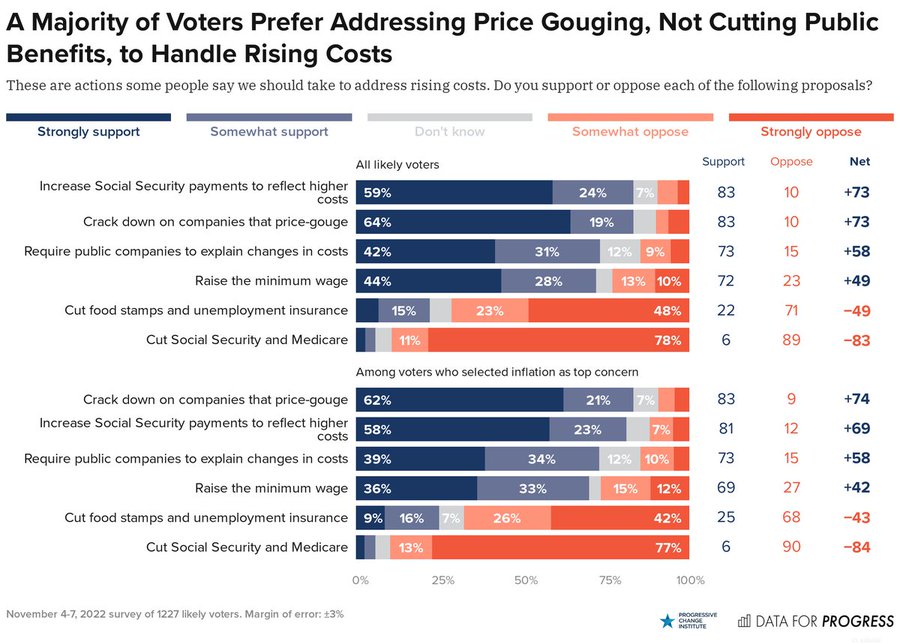 When it came to incentivizing companies to keep prices down, 83% of voters – regardless of how they felt about inflation – supported cracking down on price-gougers.
Strengthening the signature program of the U.S. social safety net, Social Security, got just as much support. Among all likely voters and among the subset concerned most about inflation, 83% backed hiking Social Security payments "to reflect higher costs."
More than two-thirds of both groups also wanted to see the minimum wage increased. And when it came to Republican priorities for spending cuts that would deal financial blows to individuals and families already struggling with high prices, the opposition took on landslide proportions.
A massive 90% of likely voters concerned about inflation opposed cutting Social Security and Medicare. So did 89% of all likely voters.
Sixty-eight percent of likely voters who prioritized inflation opposed cutting "food stamps and unemployment insurance." So did even more out of all likely voters: 71%.
Some of the polling crosstabs show that while there may be differences in degree, Republicans and Democrats for the most part feel the same way across the board on these policies. Eighty-nine percent of likely voters in each party, for instance, oppose cutting Social Security and Medicare. Eighty-two percent of both parties also agree on backing higher Social Security payouts to compensate for inflation.
Majorities of both parties – including 56% of Republican likely voters – want the federal government to impose a higher minimum wage. A majority of Republicans, 59%, agree with 82% of Democrats that food stamps and unemployment insurance should not be cut. (As TYT reported last month, Rep. Jim Jordan (R-OH) has identified cutting federal food assistance as a top opportunity for Republicans if they win the House.)
Nichols said, "Voters see through the corporate media narrative blaming inflation on government spending that benefits them – since we're the ones who suffer the consequences of inflation and would suffer [from] the rollback of public programs proposed by politicians seeking to target demand rather than the supply side origin of inflation."
She added that progressives back "concrete solutions" that would counterbalance the impact of rising prices, including:
Universal healthcare
Housing justice
Antitrust enforcement
Free pre-K and public higher education
Affordable childcare and elderly care, and
Raising taxes on the rich.
And support for government spending predates last week's polling. The poll that McCarthy cited back in the summer of 2021 did, in fact, find 71% of voters concerned that Biden's spending plans would boost inflation. But McCarthy, whose caucus leadership is now being challenged after the weaker-than-expected Republican showing, seems to have missed other findings of that same Monmouth University poll.
Specifically, it found that even despite their inflation concerns, solid majorities still wanted Biden to spend big. More than 60% of the American public supported COVID stimulus, Biden's massive infrastructure bill, and additional government spending on healthcare, college, paid leave, and more, the poll found.
In fact, Monmouth University Polling Institute Director Patrick Murray said at the time that Biden's popularity dip wasn't due to concerns about inflation or his spending plans. It was, Murray said, due to "growing uncertainty that his signature spending plans will be enacted."
Jonathan Larsen is TYT's managing editor. You can find him on Twitter @JTLarsen.